Water Containers
The Desert is DRY, and there IS NO WATER there. So we Burners bring our own. AND we take it all back with us as well. Dealing with Water is a big part of Burning Man and the experience. From drinking water to grey water, Burners are always containing and transporting water everywhere. Seeing the different creative solutions that people have developed, really inspire your own ideas of how to do it better next time.
Bring at least 1.5 Gallons of Water per person per day for drinking and washing.
When You Leave Camp Bring Your Water
When you go out to adventure around, make sure to bring drinking water with you. There are a number of different solutions that everyone uses depending on their own preferences.
Whether you go with a CamelBak (Hydration Backpack) or a good thermos, make sure your container doesn't leak. It happens quite a lot. Water is a precious resource, don't lose it. If you're out and about and run out of water, you can usually drop by a camp with a bar and ask for some water refill.
Here is a handy tip. When you fill up your cooler with ice, Put the ice in ziploc bags first. The ice melts inside the bags, and doesn't get all your food wet. Plus you can then take the bags as little portable Ice Water Drinks.
Whether you get a thermos, camel pack or goat bladder, have some fun with designing and blinging it up. Pick a theme you enjoy. Me, I like Zebras.
Keep Grey Water Separate
BM is a Leave No Trace festival which includes dumping your water on the ground. All water is collected after being used to wash, clean, etc. This water is then each individuals responsibility to take back to the default world and dispose of properly (see This Post of locations to dispose of grey water).. So everyone collects their GREYWATER and BLACKWATER to bring back with them.
It should go without saying that if you use a container for transporting your greywater for proper disposal, you should not use the same container again for fresh water. It's a good idea to properly mark, or use different color collapsable containers to make sure you don't reuse your greywater container as a fresh one and get sick.
How Much Water Should You Bring?
It totally depends on how many showers you are gonna take, how you wash your dishes, etc. Generally the rule of 1.5 gallons per day seems to work for most people. Of course if you are in an RV you also want to bring EXTRA water. All in all it's better to bring too much than too little your first time.
Keep Drinking All Day and Night
Here is a graph showing what the military are calculating for water consumption in the desert. It's a good guide based on the temperature. The red arrows show the average day temperature at Black Rock City, Nevada.
Dehydration is a real problem out on The Playa and can really bum your party. If you are drinking alcohol or taking other substances, you will want to make sure to drink extra water. If you are building up your campsite, or helping someone put up a giant sculpture, you're gonna wanna follow the A line of the graph.
Put together by Burners, this pack has all you need for when you leave camp to explore the Playa.
Foldable cup, fits into pocket. -Light scarf, protects from dust. -Dust mask. - Mist spray, best way to make new dusty friends
Mini ashtray. - Water pack, fits into any backpack, 2.5 liters - Towel - Flashlight, USB operated, with bike attachment - Colorful bike wheel lights. - 32 LED tribal pattern, bike wheel lights, front wheel - Bandana - Hand sanitizer
Use the promocode 4ABURNER to get a discount at Comefuzed.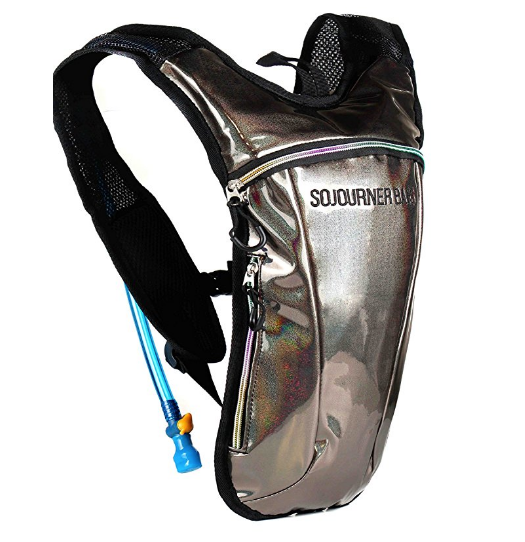 These funky designed hydration packs, not only look cool, but you can carry 2 liters of water at a time. If you do get a hydration pack, get a cleaning kit as well.
Collapsable Water Containers
There are a variety of Water Containers in different sizes. Depending on the size of your crew, you will want big or small containers. Remember 1.5 Gallons per day, per person.
The Collapsable Water Containers have proven very handy in the past. However after a few Burning Mans, they can tend to break at the seams and leak a bit. Nothing that some flex seal can't fix. Just make sure they are BPA free!
What are your Water Tips? Let us know in the comments.
Post Cover picture by @charismelina